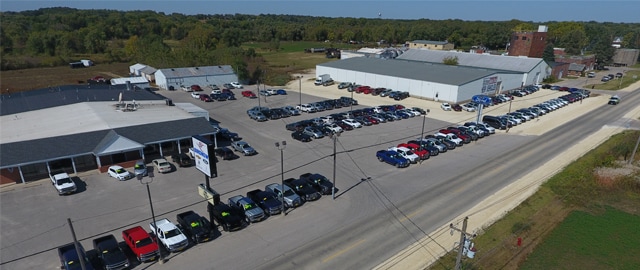 Birdnow Motor Trade of Oelwein and Birdnow Chevrolet of Monona are proud car dealerships with a long history of serving drivers in Independence. Our Birdnow family is dedicated to taking care of the people in this community and the nearby area. Unlike many large dealerships we will get to know you and strive to take care of your vehicle the same as we would our own. We are committed to maintaining a strong reputation for providing quality vehicles and great customer service.
The Birdnow Dealerships bring just the right combination of small town service and friendliness with the best trained people and the latest equipment to serve you. Visit us today at Birdnow Motor Trade of Oelwein  and Birdnow Chevrolet of Monona and we'll help you find the car, truck, or SUV that's right for you!
Popular 2019 Buick, Chevrolet, Ford, and Lincoln Vehicles For Sale Near Independence
We carry a wide selection of new 2019 Buick, Chevrolet, Ford, and Lincoln vehicles. Browse our inventory for your favorite models. We're certain you'll find an amazing deal on the vehicle you've been looking for! See our showroom to find the newest models from Chevrolet, Ford, Buick, and Lincoln, then contact us to schedule a test drive.
Find Great Deals on Used Cars, Trucks, SUVs, and Minivans
Birdnow Motor Trade of Oelwein and Birdnow Chevrolet of Monona provide a wide selection of used cars, trucks, SUVs, and minivans at competitive prices. Be sure to view our current special offers on pre-owned vehicles. Birdnow Dealerships offer a free, no obligation and confidential CarFinder tool, allowing you to specify your desired car, truck or SUV and submit the vehicle configuration to us. Once we locate matching automobiles, you automatically receive details of those models, with photographs included.
Finance Your New Vehicle
The Birdnow Dealerships have teamed up with many national and local lenders to offer a wide range of finance and lease options. Chances are we have a lender and a program to fit your budget. At the Birdnow Family of Dealerships, we have a friendly and experienced finance department dedicated to guiding you through the auto loan process. We take care of good people who may have less-than-perfect credit situations and will always provide you with the best financing options that are suited to your specific needs. We're here to help you get into a vehicle you can afford and help you rebuild your good credit at the same time!
QUICK QUOTE